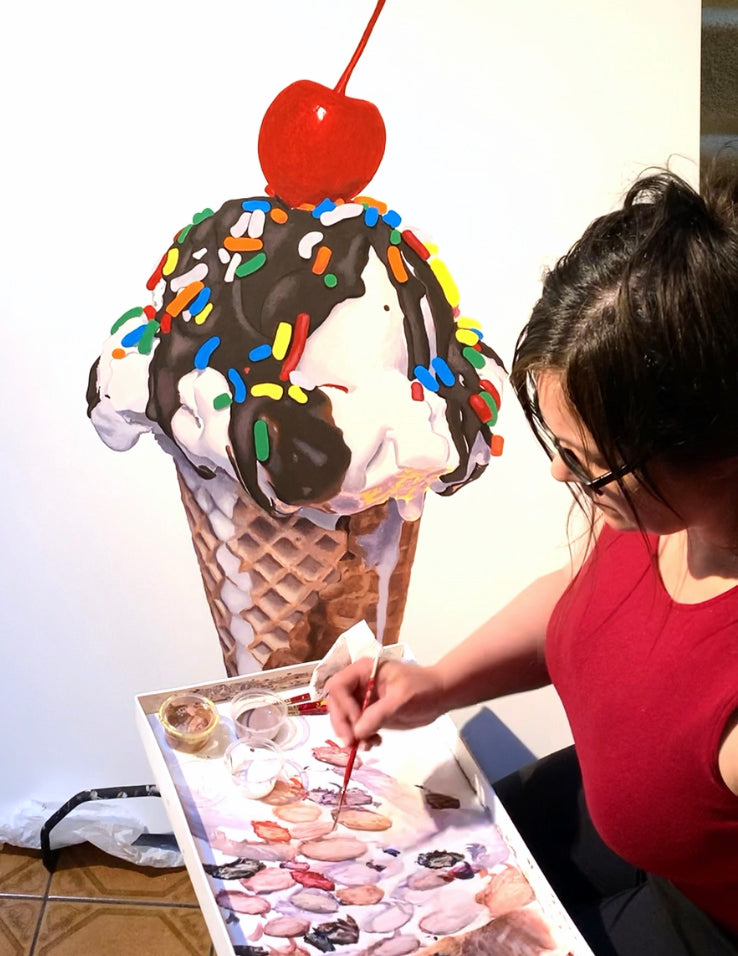 About Kim Testone
Kim Testone is a contemporary acrylic realist painter whose work primarily focuses on happy and colorful dessert foods that evoke a sense of nostalgia. Her unique painting style combines her formal education with many years of self-taught technique. It involves a complicated and time-consuming process of layering thin, often translucent layers of glazed acrylic paint on flat panels, creating an optical blend of colors that plays with the interaction of light. Each piece can take a week to a month to complete. The end result is a painting with very little texture that aims to achieve a sense of hyperrealism and pop off the panel to become part of the space. Ultimately, she paints with the goal of eliciting a warm and positive emotional reaction from the viewer.
"I try to infuse a bit of personality into my paintings. I work hard on the designs and colors to make people feel something when they see the work, something that reminds them of some simple beautiful moment in time, now ever-present. Maybe something from their childhood, or some special occasion. I think that's why I like painting ice cream that makes a bit of a mess, with drips and imperfections— because those represent the most beautiful moments to me."

Often using pure white backgrounds that both showcase the painting subject and lend a clean and contemporary aesthetic to her works, Kim hopes her paintings provide a sense of happy calm and joyful nostalgia to whatever space they inhabit.

"I like to think that art doesn't have to be super-serious to make it meaningful. If it can make someone feel a little happier when they see it, if it elicits a happy memory or just the feeling of being a kid experiencing a bit of magic in the world, then to me, it was worth creating."

Kim holds a Bachelor's degree in Studio Art with a concentration in Drawing from the University of Central Florida and a Master's degree in Arts Administration from Savannah College of Art and Design. She is a former art magazine editor and a former theme park caricature and silhouette artist. Today, her original paintings are represented by Hidell Brooks Gallery in Charlotte, North Carolina. Her fourth solo show, featuring large-scale ice cream cones and sundaes, takes place in October 2023.